Keep your Farm Tires Rolling All Season Long - TECH Tire Repairs has you covered
From tractors and combines to trailers, farm trucks and ATVs, your farm likely has a ton of tires you need to maintain. Luckily TECH has you covered with a huge selection of tire repair materials, tire sealants, tools and more to keep your farm running all season long. From the smallest to largest - we've got everything you need to keep all the tires on your property in proper working order. 
Sharp Rocks, Fence Posts, Barbed Wires - Your Fields are Loaded with Potential Tire Hazzards
Timing is everything on a farm. Don't let a flat tire set you back. Be prepared with TECH's complete line of tire repairs, chemicals and tools. Whether you're planning ahead, or are in a machine-down crisis, you're just a few clicks away from being back up and running with tire repair products from TECH.
Unlike cheap tire repair products you can buy at the local department store, our repairs use cold vulcanizing technology to create a strong, permanent repair. Our repairs are covered with a soft cushion gum. When used with our Vulcanizing Fluid, the cushion gum bonds the repair unit to the surface of your tire creating an air tight seal that will last the life of your tire.
Here are a Few Products every Farmer Should Have in The Barn or Garage
The ideal all-in-one puncture repair kit. Great for nail holes and other punctures. Contains a box of 40 Permacure repairs, Vulcanizing Fluid, Spiral Cement Tool (for preparing the puncture and removing damage) and installation tool.
For larger injuries in biased tires, TECH offers a complete line of bias ply tire repairs. With sizes ranging from 4" x 4" to 11" x 11" you can get even a pretty gnarly tear back in service. Be sure to use with TECH Vulcanizing fluid for permanent adhesion.
Permanently seal punctures up to 1/2" in 10-ply tires and up to 1/4" in 2-ply tires. Prevents air loss from punctures and leaks. Reduces maintenance expenses, eliminates downtime and makes hard-to-find leaks a thing of the past. Use to add ballast!
If you really wanna seat your tires quickly, and impress your friends and neighbors, we recommend you splurge on a Bead Bazooka. The rapid air release valve makes seating even the most stubborn tire effortless.
Make mounting, demounting and resealing your tires' beads much easier with our complete line of mounting and demounting chemicals.
This is the magic fluid that makes all of our tire and tube repairs adhere and create a strong, air tight and permanent bond. You must use Vulcanizing Fluid with all cold bonding repair applications. This is a critical step in creating a lasting repair.
Be sure to Check out Our Additional Tools, Repair and Chemicals
Above was just a small sample of our complete line of tire repair, tools and chemicals. TECH is the brand trusted by professional tire repair shops around the world. We invite you to browse these additional categories for additional demounting tools, rubber buffing wheels, floor jacks and more.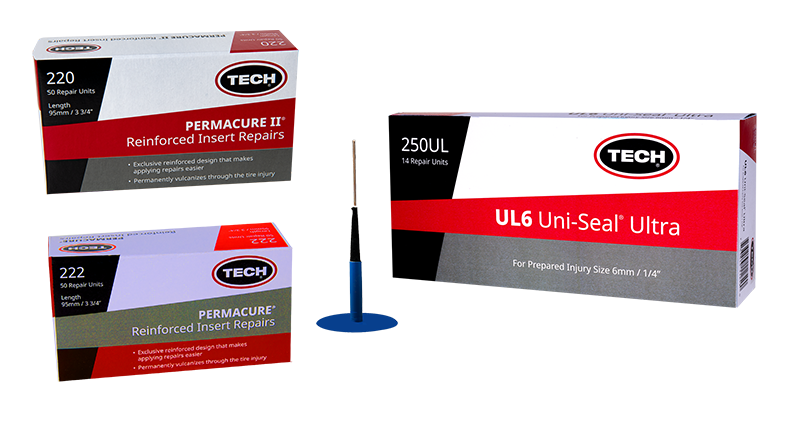 TECH produced tire repairs are endorsed and are used by the world's largest tire manufacturers/retreaders and their subsidiaries.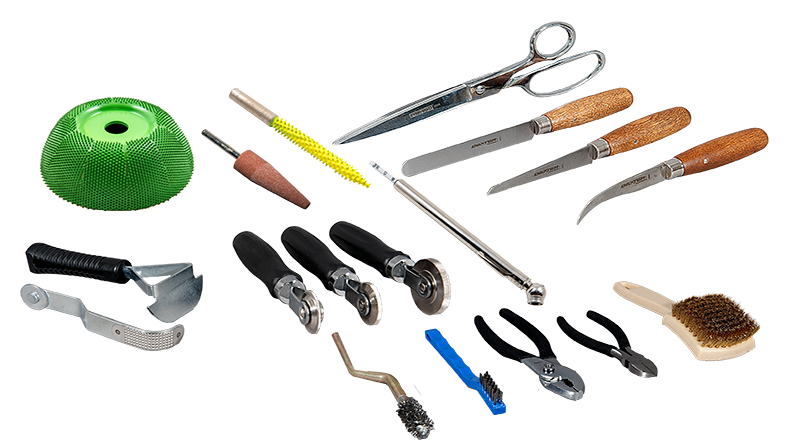 TECH's complete line of service tools and equipment are designed specifically to meet the needs of tire technicians around the world.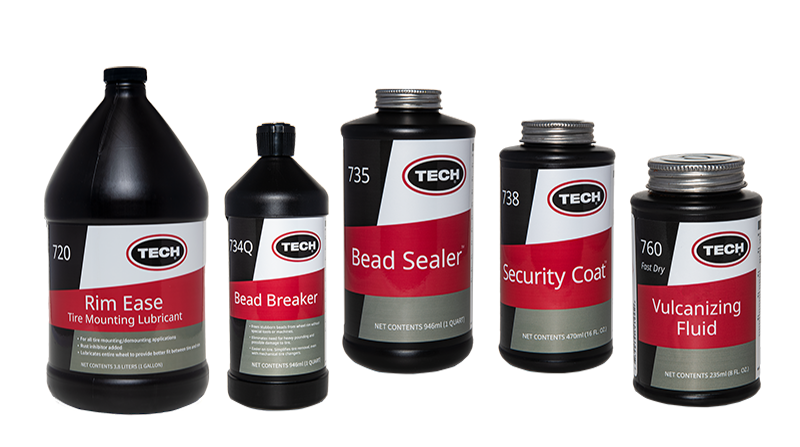 TECH pioneered the chemical vulcanization process over 80 years ago and offers a complete range of specialty chemicals.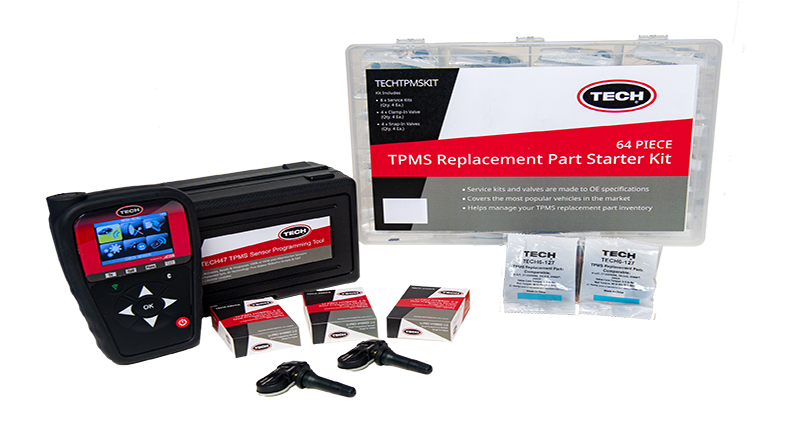 TECH offers a comprehensive line-up of wheel and tire supplies for virtually every application.